Our lawfirm was profiled on the Beehive Newspaper 2015 Please have a look.
---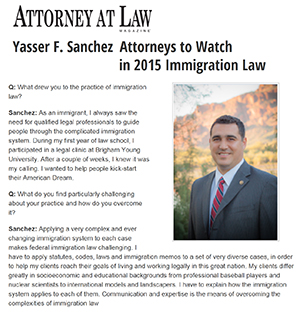 Attorneys to Watch in 2015 Immigration Law: Yasser F. Sanchez - Reprinted from Attorney at Law Magazine
Q: What drew you to the practice of immigration law?
Sanchez: As an immigrant, I always saw the need for qualified legal professionals to guide people through the complicated immigration system. During my first year of law school, I participated in a legal clinic at Brigham Young University. After a couple of weeks, I knew it was my calling. I wanted to help people kick-start their American Dream.
Q: What do you find particularly challenging about your practice and how do you overcome it?
Sanchez: Applying a very complex and ever changing immigration system to each case makes federal immigration law challenging. I have to apply statutes, codes, laws and immigration memos to a set of very diverse cases, in order to help my clients reach their goals of living and working legally in this great nation. My clients differ greatly in socioeconomic and educational backgrounds from professional baseball players and nuclear scientists to international models and landscapers. I have to explain how the immigration system applies to each of them. Communication and expertise is the means of overcoming the complexities of immigration law
Q: What flaws do you see in the current legal landscape? How would you propose they be corrected?
Sanchez: The current immigration system is broken. The current politics behind immigration have created an environment incapable of fixing the system. Two moves by Congress could help our broken immigration system.
First, we need to create a guest worker program for unskilled labor. We should also get rid of the three and 10-year bars which make is very difficult for family members of U.S. citizens who have unlawfully entered the country at some point to be able to adjust their status.
Doing these two things would create a fairer immigration system. This change could allow needed unskilled laborers to join the U.S. economy legally. At the same time, it would bring mercy to the millions of immigrants who are not able to attain legal status, letting them join their U.S. citizen family members. This must be done in connection with increasing the security of our southern border.
Q: What do you find most rewarding in your day-to-day work as an attorney?
Sanchez: There is nothing like looking into someone's eyes that has never been able to attain legal status and saying, "I can help you become an American." As an immigration attorney I make it a point to find a way to give immigrants hope that they can bring their spouse, fiancé or family member here to the United States. Uniting families that have been separated by borders, oceans and paperwork is the task. I see immigration law as a labor of love. Someone has to be loved by someone to have him or her be brought across the world to this great nation. It is rewarding to see families united on a daily basis. Every form our firm fills out is a life that can be changed.
---
Image Reprinted with Permission from Prensa Hispana